Berikut artikel Yuk, Kenali Slogan Pariwisata Semua Negara di Dunia, Semoga bermanfaat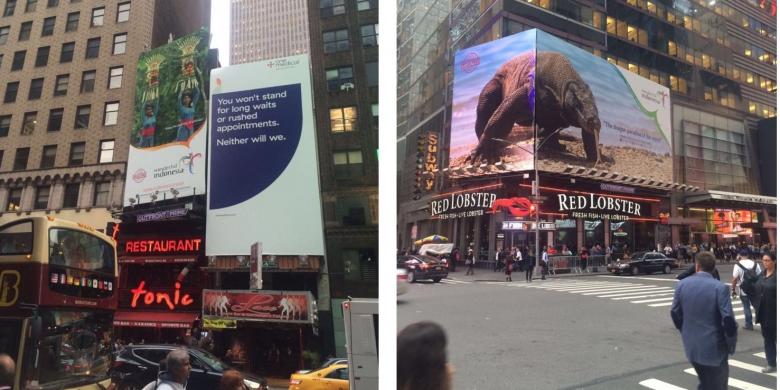 JAKARTA, KOMPAS.com — Situs FamilyBreakFinder mengeluarkan peta dunia yg mencantumkan slogan pariwisata di tiap negara. Mulai dari Benua Eropa, AS, Asia, sampai Australia, segala negara dalam peta tersebut bertuliskan slogan.
Mengutip situs Lonely Planet, Rabu (23/11/2016), dalam peta tersebut, kalian dapat melihat slogan pariwisata yg "wah" hingga yg unik. "Wonderful Indonesia", "Malaysia Truly Asia", sampai slogan yg jujur dan sederhana seperti "Visit Armenia, It Is Beautiful".
Dalam peta tersebut, cuma ada 38 negara yg tak dilengkapi slogan pariwisata, antara yang lain Korea Utara, dua negara di Afrika, dan ajaibnya: Swedia.
Berikut slogan pariwisata segala negara di dunia, mengutip dari peta keluaran FamilyBreakFinder.
Afrika Selatan – Inspiring new ways
Albania – Go your own way!
Algeria – Tourism for everybody
Amerika Serikat – All within your reach
Andorra – The Pyrenean Country
Antigua and Barbuda  – The beach is just the beginning
Arab Saudi – Experience to discover
Argentina – Beats to your rhythm
Armenia – Visit Armenia, It is Beautiful
Australia – There's NOTHING like Australia
Austria – Arrive and revive
Bahama – Life Is Grand
Bahrain – Ours. Yours. Bahrain
Banglades – Beautiful Bangladesh
Barbados – Brilliant Barbados
Belanda – The original cool
Belarus – Hospitality Beyond Borders
Belgia – The place to be
Belize – Mother Nature's Best-Kept Secret
Bhutan – Happiness is a place
Bolivia – Bolivia awaits you
Bosnia and Herzegovina – The heart of SE Europe
Botswana – Our pride, your destination
Brasil – Brasil – sensational!
Britania Raya – Home of amazing moments
Brunei Darussalam – A kingdom of unexpected treasures
Bulgaria – A discovery to share
Burundi – Beautiful Burundi
Cabo Verde – No stress
Ceko – Land of stories
Chad – Oasis of the Sahel
China – China Like Never Before
Cile – All are welcome
Denmark – Happiest place on Earth!
Djibouti – Djibeauty
Dominica – The nature island
Dominican Republic – Dominican Republic has it all
Ekuador – All you need is Equador
El Salvador – The 45 Minute Country
Estonia – Epic Estonia
Etiopia – Land of origins
Fiji – Where Happiness Finds You
Filipina – It's more fun in the Philippines
Finlandia – I wish I was in Finland
Gambia – The smiling coast of Africa
Georgia – For the best moments of your life
Grenada – Pure Grenada
Guatemala – Heart of the Mayan World
Guyana – South America Undiscovered
Haiti – Experience It!
Honduras – Everything is here
Hongaria – Think Hungary more than expected
India – Incredible !ndia
Indonesia – Wonderful Indonesia
Irak – The Other Iraq (Kurdistan)
Iran – You Are Invited
Irlandia – Jump into Ireland
Islandia – Inspired by Iceland
Israel – Land of Creation
Italia – Made in Italy
Jamaika – Get All Right
Jepang – Endless discovery
Jerman – Simply inspiring
Jordania – Yes, it's Jordan
Kamboja – Kingdom of wonder
Kamerun – All of Africa in one country
Kanada – Keep exploring
Kazakhstan – The land of wonders
Kenya – Magical Kenya
Kirgistan – Oasis on the Great Silk Road
Kiribati – For travellers
Kolombia – Colombia is magical realism
Korea Selatan – Imagine your Korea
Kosta Rika – Essential Costa Rica
Kroasia – Full of life
Kuba – Autentica Cuba
Laos – Simply Beautiful
Latvia – Best enjoyed slowly
Lebanon – Live Love Lebanon
Lesotho – The Kingdom In The Sky
Liechtenstein – Experience princely moments
Lituania – See it! Feel it! Love it!
Luksemburg – Live your unexpected Luxembourg
Macedonia – Macedonia Timeless
Madagaskar – A genuine island, a world apart
Maladewa – The sunny side of life
Malawi – The warm heart of Africa
Malaysia – Truly Asia
Malta – Truly Mediterranean
Maroko – Much Mor
Mauritius – It's a pleasure
Meksiko – Live It to Believe It
Mesir – Where it all begins
Mikronesia – Experience the warmth
Moldova – Discover the routes of life
Monako – Easy going Monaco
Mongolia – Go Nomadic
Montenegro – Wild Beauty
Mozambik – Come to where it all started
Myanmar – Let the journey begin
Namibia – Endless horizons
Nepal – Once is not enough
Nigeria – Good people, great nation
Nikaragua – Unica. Original!
Norwegia – Powered by nature
Oman – Beauty has an address
Palau – Pristine Paradise Palau
Panama – Panama Surprises
Papua Niugini – A million different journeys
Paraguay – You have to feel it!
Perancis – Rendez vous en France
Peru – Land of the Incas
Polandia – Move your imagination
Portugal – Europe's West Coast
Qatar – Where dreams come to life
Romania – Explore the Carpathian garden
Rusia – Reveal your own Russia
Rwanda – Remarkable Rwanda
Saint Lucia – Simply beautiful
Saint Vincent-Grenadines – Discover SVG
Samoa – Beautiful Samoa
San Marino – San Marino For All
Selandia Baru – 100% Pure
Serbia – My Serbia
Seychelles – Another world
Sierra Leone – The freedom to explore
Singapura – Your Singapore
Siprus – Cyprus in your heart
Slovenia – I feel SLOVEnia
Slowakia – Travel in Slovakia – Good idea
Solomon  – Seek the unexplored
Spanyol – #spainindetail
Sri Lanka – Wonder of Asia
St Kristoforus-Nevus – Follow your heart
Suriah – Always Beautiful
Suriname – A Colorful Experience… Exotic beyond words
Swasi – A royal experience
Swiss – Get natural
Tajikistan – Feel the friendship
Tanzania – The land of Kilimanjaro, Zanzibar and the Serengeti
Thailand – Amazing Thailand. It begins with the people
Timor Leste – Being first has its rewards
Tonga – The true South Pacific
Trinidad-Tobago – The true Caribbean
Tunisia – I feel like Tunisia
Turki -Be our guest
Tuvalu – Timeless Tuvalu
Uganda – You're welcome
Ukraina – It's all about U
Uni Emirat Arab – Discover all that's possible
Uruguay – Uruguay natural
Uzbekistan – Naturally Irresistible!
Vanuatu – Discover what matters
Venezuela – Venezuela is your destination!
Vietnam – Timeless charm
Yunani – All Time Classic
Zambia – Let's explore
Zimbabwe – A world of wonders
Sumber: http://travel.kompas.com/read/2016/11/24/060800327/yuk.kenali.slogan.pariwisata.semua.negara.di.dunia
Terima kasih sudah membaca berita Yuk, Kenali Slogan Pariwisata Semua Negara di Dunia. Silahkan baca berita lain tentang Traveling lainnya.